Our Goal: To Be the Most Eco-Friendly Card Producer in the United States
Perfect Plastic Printing has recently completed an expansion that doubled our square footage and our capacity for card personalization. We saw this as a tremendous opportunity to renew our commitment to the environment and produce a facility with a goal to achieve an exceptional reduction in CARBON EMISSIONS for card manufacturing!
How did we do?
We are currently working with an independent auditing agency to calculate our current carbon footprint and develop a reduction plan. We expanded our production facility by 105% and reduced our energy usage per square foot by 56.7%.
Solar Panels
In addition to the SolarWall System, our new addition features a roof installed 814 KW solar panel array. The Solar Panel Array, installed in 2021; will generate up to 1,000,000 KWh of electricity annually; enough energy to power 1200 homes. Unlike traditional fossil fuels used for electricity, solar panels don't produce emissions while generating power. That's why solar energy is important to slash greenhouse gas emissions and slow climate change.
2022 Production: 929,409 kWh
CO2 Emissions avoided: 1,452,846 lbs
On Average our personalization department is running on 100% Solar Power 17.2% of each day
Solar Wall:
We are extremely proud to share that our expansion incorporates solar air heating with SolarWall. Independent monitoring data indicates that SolarWall systems displace between 20-50% of heating fuel consumption.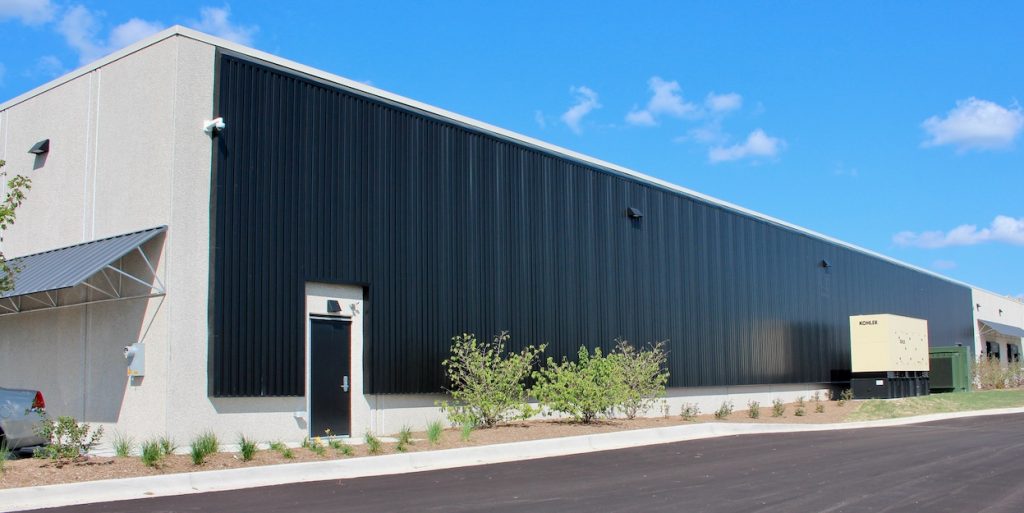 SolarWall systems produce up to 60 watts/ft2 (600 watts/m2) of thermal energy (1.5-3.5 therms/ft2 or 1.5-3.5 GJ/m2 per year). When the sun warms the surface of the collector, the heated air is drawn through thousands of tiny perforations on the surface and ducted to the existing air intake. On a sunny day this air will be heated anywhere from 30-70˚F (16-38˚C) above ambient. The solar heated air is then distributed throughout the building via the conventional ventilation system or dedicated fans and ducting. The SolarWall technology heats fresh air, so it also improves indoor air quality.
We Encourage the Use of Electric Vehicles
To reduce the impact of vehicle pollution and oil consumption, six electric car charging stations are available at Perfect Plastic.
Recycling
SCRAP PLASTIC SHREDDING & RECYCLING: All plastic scrap generated in card production, such as plastic skeletons from cut sheets and shredded card waste, are turned over to a plastic recycling firm. Local recycling facilities transform them into stock used to manufacture other plastic products such as composite decking & spacers.
RECYCLED PACKAGING MATERIALS: We receive our raw materials packaged in paper, cardboard, and plastic. These materials are separated, collected, and turned over to recycling firms.
SCRAP METAL RECYCLING: Credit card production generates scrap aluminum print plates, scrap stainless steel lamination plates, and steel stamping dies. When these have reached the end of use, they are turned over to a metal recycling firm.
Facilities Energy Savings Initiatives
Energy intensive equipment are routinely serviced to improve energy efficiency and reliability. We are systematically replacing electrical devices in the plant with more energy-efficient versions. The plant illumination system has been upgraded to high-efficiency CFL technology.
Carbon Offsets for Natural Gas
In fourth quarter of 2021, Perfect Plastic Printing signed an agreement for carbon offsets of natural gas. The agreement will offset 100% of natural gas consumed by Perfect Plastic. In 2022, we offset 359 metric tons of CO2. These efforts contribute to our goal of reaching Net-Zero-Carbon Footprint Card Manufacturing.
Carbon Footprint reduction / elimination

CO2e: Scope 1 – 366.1 Metric Tons

Carbon offsets cover 359.2 Metric Tons
Balance CO2e = 6.9 Metric Tons

CO2e: Scope 2 – 2003.5 Metric Tons

Learn More About our Responsible Card Production.
To learn more about how you can reduce your carbon footprint at home or at work, visit the EPA website.