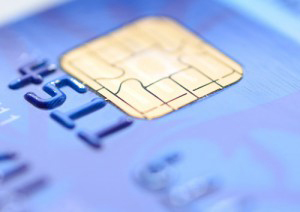 EMV Technology utilizes a small data processing chip embedded in a plastic card to transmit encrypted data during a cardholder transaction.
The chip card was developed to reduce card fraud. Due to the expensive telecommunication costs in Europe the chip was added to the card and enabled a connection with the card and the terminal. The card is able to authorize the transaction.
The features that are defined by EMV are as follows:
Authentication of the chip card to verify that the card is genuine so as to protect against counterfeit fraud for both online authorized transactions and offline transactions.
Rules written into the card to limit the conditions under which the issuer will permit the chip card to be used and force transactions to be carried out online for authorization under certain conditions such as offline limits being exceeded.
Digitally signing payment data for transaction integrity.
More robust cardholder verification to protect against lost and stolen card fraud for EMV transactions.
EMV chips can be configured in a number of different ways to meet issuer and customer needs. They can even be loaded with applications similar to your smart phone.
EMV integration in the U.S. will mean decreased fraud loss in the U.S. market and easier access to finances when traveling to foreign markets. Counterfeit, lost and stolen card fraud represents significant cost to all participants in the payment process, including retailers, acquiring banks, card issuers and cardholders. Costs mount due to:
The processing of cardholder disputes
Research into suspect transactions
Replacement of cards that have been counterfeited or reported as lost and stolen
Eventual liability for the fraudulent payment itself.
By reducing counterfeit, lost and stolen card fraud, EMV offers real benefits to retailers, acquirers, card issuers and cardholders.