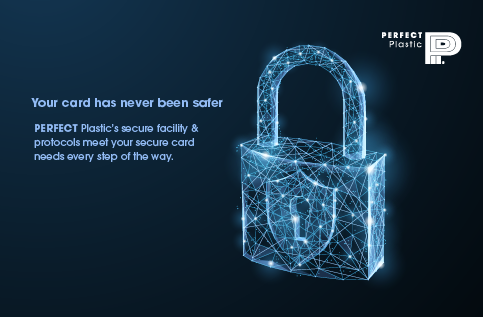 As an organization, Perfect Plastic Printing has been certified to run our operation at or beyond the stringent security standards of all of the leading financial organizations since the inception of their certification processes.
Perfect Plastic Printing is the leader in the secure card industry. We are second to none in this area. We take great pride in operating at this level of security for the peace of mind of our customers. Stringent controls are maintained on all aspects of the business as well as the manufacturing environment.
Physical Security measures:
CCTV cameras
A high-security vault
Restricted movement within the manufacturing plant
Monitoring of visitors
Frequent audits both within the manufacturing process and on a regular basis from Visa, MasterCard, American Express, and Discover
Logical Security measures:
PCI compliant and are regularly audited by numerous financial associations, including Visa, American Express, MasterCard, Discover, etc.
Innovation at Perfect Plastic extends beyond the cards. Part of the value of Proven Experience is the 100% accountability Perfect Plastic provides in security. Every security measure recognized by the secure card industry is a part of our strong commitment to preventing financial crimes.